Welp, maternity leave ended and I went back to work last week.
Or was it this?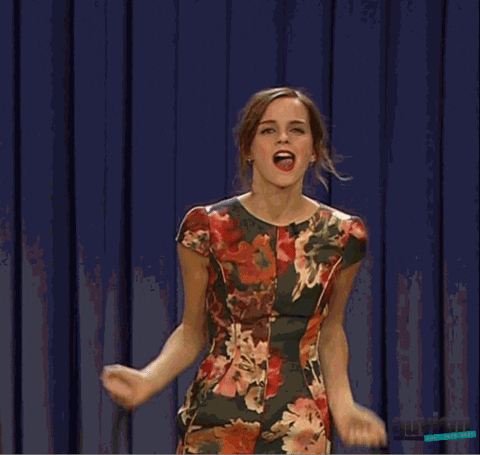 To be honest, it was a little bit of both for me. Sad to not be home all the time with the kids, buuuuuttt…I was also not home all the time with the kids, so that's nice too. Kids are wonderful and hard. Working feels like doing something for myself, which is a nice change from being home and entirely focused on my two tiny dictators. And I'm sure my husband is silently happy to not have me sitting around in a pair of super ugly leggings I got for free all day.
Whether you're excited or dreading going back from maternity leave, there are a few things I have found that help ease the transition back.
This post contains affiliate links. That means at no extra cost to you, I make a small commission on products ordered.
Food plans
Because food is a big part of life, it's helpful to think about this before you go back. If you haven't started meal planning, now is the time! First thing, if they aren't already involved–involve your partner! You are not in charge of everyone eating every meal of the day! So come up with a plan together. Write it down, buy the groceries you need, and prep what you can ahead of time–it will make mealtimes so much better. Plan super easy meals the first couple of weeks until you can get into your new schedule groove. Take advantage of grocers that let you order online and come pick up your order.
Pay special attention to the pain points. Right now we have frozen waffles, pancakes, french toast, spinach muffins, and homemade strawberry popsicles to help out with breakfasts because mornings are hectic. There are tons of websites that give freezer meal ideas, so you can prepare several meals ahead of time and pop them out and into the oven or crock pot for dinners.
When you've been at work all day, you're going to want to cuddle that baby all evening, so make it easier on yourself and plan ahead!
Childcare plans
You've probably been thinking about this since you decided that you would go back to work after having a child. This isn't something you can leave to the last-minute, but even if you know what your plans are, there are still things to consider as it becomes a reality. Are you bringing formula or pumped milk? How much will you need to take every day? Do they provide diapers or do you need to pack 20 in the bag every day? Wipes? How many extra outfits will you pack? Talk to your childcare provider and get as good an idea of what you need to do to get ready.
Also, if you do still need help with picking your childcare, check out this post!
Pumping Plan
I'm happy to pump for my daughters, but it can definitely be a hassle. Make sure you have a pumping plan in place before you go to work. Here are some questions to consider:
Where is the lactation room in your building? How do you reserve a space in the room? Schedule it on your calendar, especially if it is a shared calendar so nobody schedules a meeting during your time. Or do you drive to different locations throughout the day and need to plan for pumping while you drive? PS, I don't know how women do this, but a lot do! Here is a great blog post with some how-to's for driving and pumping.
What will you do with the milk once it is pumped? Is there a fridge or do you need to bring a cooler?
Is the childcare provider close enough that you can stop by and nurse on your lunch break?
Do you have to clock out while you pump or do you need to stay a little longer to make up for the time you'll be pumping?
How will you clean the parts after you pump? FYI, my lactation room didn't have a sink the first time and I wasn't going to take them into the bathroom (yuck) to clean, so I used these breast pump wipes and they were awesome!
There are a lot of questions to answer ahead of time, but once you get started, pumping at work is no big deal. You can check out this post for gear that I've used for pumping at work.
Practice
You shouldn't just leave your baby cold turkey. You won't like it, and your baby will likely need to get used to not having you around. Especially if you're lucky and had a long maternity leave. Leave the baby with a sitter while you and your partner get out for a bit. Let someone else feed the baby a bottle, even if it means you go pump and save that for later. Plan an activity one day that starts the same time as you'll need to be at work so you can practice getting ready and out of the house on time.
Even planning out the day of the week you'll return to work can make an impact. With my first child, I went back to work on a Monday. It was fine, but it was a long week. This time I went back on a Thursday and it was great. Still felt long because I hadn't been to work in weeks, but it was much better than going on a Monday.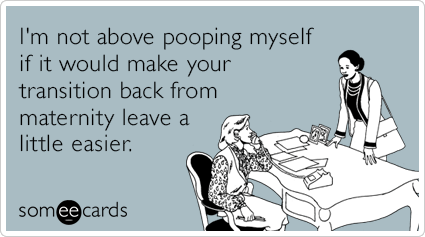 We're working through our kinks still, mostly with how to get out of the house on time with a baby who always wants to nurse and doesn't like the bottle yet. Know it will take some time, but it'll even out, just like those first crazy couple of weeks after having the baby did. None of these suggestions are revolutionary, but in the foggy mind that is maternity leave, it can be easy to not think everything through. As much as you may not want to think about leaving your little human, take some time to think through some of your new processes and life will be a bit easier. Soon enough you'll be home from work and getting spit up on again by the cutest dang kid you know!