I am a total dud on New Years. We were in bed at 10 p.m. and it was lovely.
When your kids are up at 5 more often than not, midnight is nothing special to stay up for.
But I do love New Years.
I love taking down Christmas and realizing that my home is 5x bigger than it felt like with the tree up. I love reflecting on the year and imagining what is coming up in the next. I love the feeling of a fresh start.
And I've just got a good feeling about 2019. I don't know what it is, but I feel like we're going to be moving forward with some of our plans and creating better habits for our future. A few things that I have in mind for this year are:
Strengthen my family relationships
Do awesome in grad school
Husband start grad school
Become a budgeting master so we're prepared when #3 happens
Lose the dang baby weight (And yes, I do think it's okay to have this kind of goal. It's not body shaming or losing weight for the sake of losing weight. This extra 25 pounds of baby weight is not healthy for me.)
Write more
Those are the larger goals, but they'll take a lot of little steps to reach. As I've thought about this past year and the coming one, I've decided to jump on the "word/phrase of the year" train to help me focus. My simple phrase is "Be intentional."
Intent
I realize the word intentional is pretty basic in the Instagram-podcaster influencer world that we see online. It brings up images in my mind of vision boards on Pinterest and downloading all the mindfulness apps you can find. Still, I love it's etymology.
While the current usage of intentional indicates deliberate action, the Latin origin of the word intendere means "stretch" and "toward." So to me, "Be intentional" means that I'm purposefully stretching myself towards my goals. It's uncomfortable and good all at once. And I love that.
I feel like right now I need that in my life. I tend to have a lot of goals for myself, but life is so busy. I mostly end up trying to get all the things done, but it ends up just checking things off my list. Simply accomplishing tasks doesn't necessarily add value.
What it looks like
For example, how many of us want to spend more time with our families, but end up scrolling on our phones on the couch next to our spouses? It's tooootally spending time together, right? There's just no connection. My marriage is not enhanced by sitting next to my husband while we watch TV. There's absolutely a time for that and rest is important, but there needs to be more substance.
An example of something I've been more intentional with lately is grocery shopping. Once I started working full-time, I tried out ordering groceries online to get an hour more with my kids. After a few months, I stopped. I realized that my three-year-old is awesome in the store and she loves going. So now I take her while sister naps with dad. We name the vegetables and fruit, she smell things (hygienically, of course), we shake the coconut in her ear so she can hear the milk, we talk about how the food makes us strong, and we'll occasionally get new ones for her to try at home. Grocery shopping gets done, she learns, and we connect.
I want more of those experiences and I'm going to spend the time to make them happen.
Right now, I'm most excited about being more intentional with our finances. Our debt is student loans and cars. After our CRV was totaled in June we had to buy a new-to-us car, which added a small second car payment. Then our childcare situation changed twice and we're now in a wonderful daycare. It's worth every penny, but it's A LOT of pennies. As we look towards the end of this year, my husband will hopefully be starting graduate school as well. His income will significantly increase afterwards, but it will add more debt. I feel such a strong pull to get our budget together better so we have a realistic understanding of how much we need to take out and hopefully keep paying down debt while we're both in school. I've started following #debtfreecommunity on Instagram and I'm pretty pumped about this goal
What I want
I want to make purposeful choices that stretch me towards the life we want. Whether those choices are in relation to how I spend time with my family, how I speak to my kids, what classes I take, how I do and don't spend money, what I blog about and how often, etc.–I want them to mean something and add value to my life.
So "Be Intentional" in 2019 is happening and I'm looking forward to it! Did you pick a word or phrase to help you focus this year? Tell me all about it!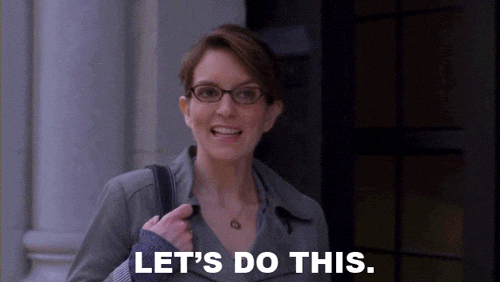 P.S. If you remember last year, I made a list of books I wanted to read to help me focus on my goals. I read several in the first half of the year, but then got accepted into a graduate program that I hadn't planned on applying to and that definitely stopped the leisure reading. I did keep a log of what I read here, with my thoughts on each and which was my favorite (here if you want to cut to the chase).